---
dashboard old
We decided to use the new dashboard of the MD Juan complete body kit, because the old one has too many holes.
---
restored instrument panel
---
The following slide show gallery shows the installation of the speedometer and gages at the instrument panel as you can see in the picture above.
---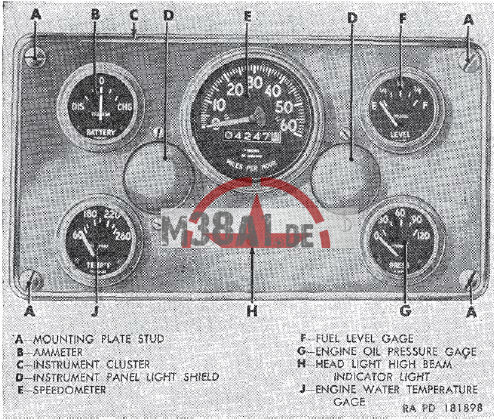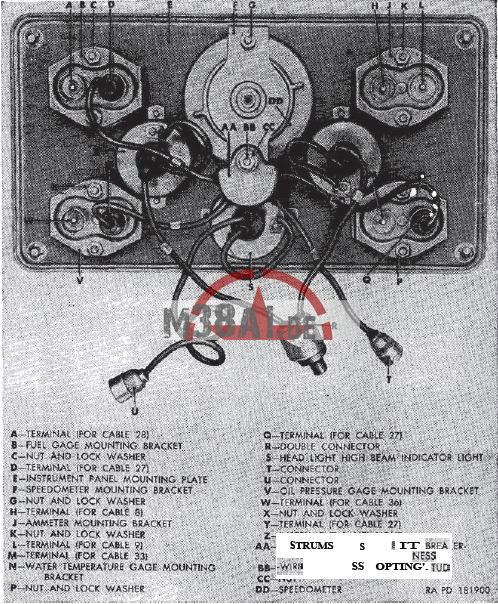 ---
---
PLEASE HELP US TO KEEP THIS WEBSITE UP TO DATE WITH A ONE TIME DONATION
You will find more informations under donation
---
---
wiring harness dashboard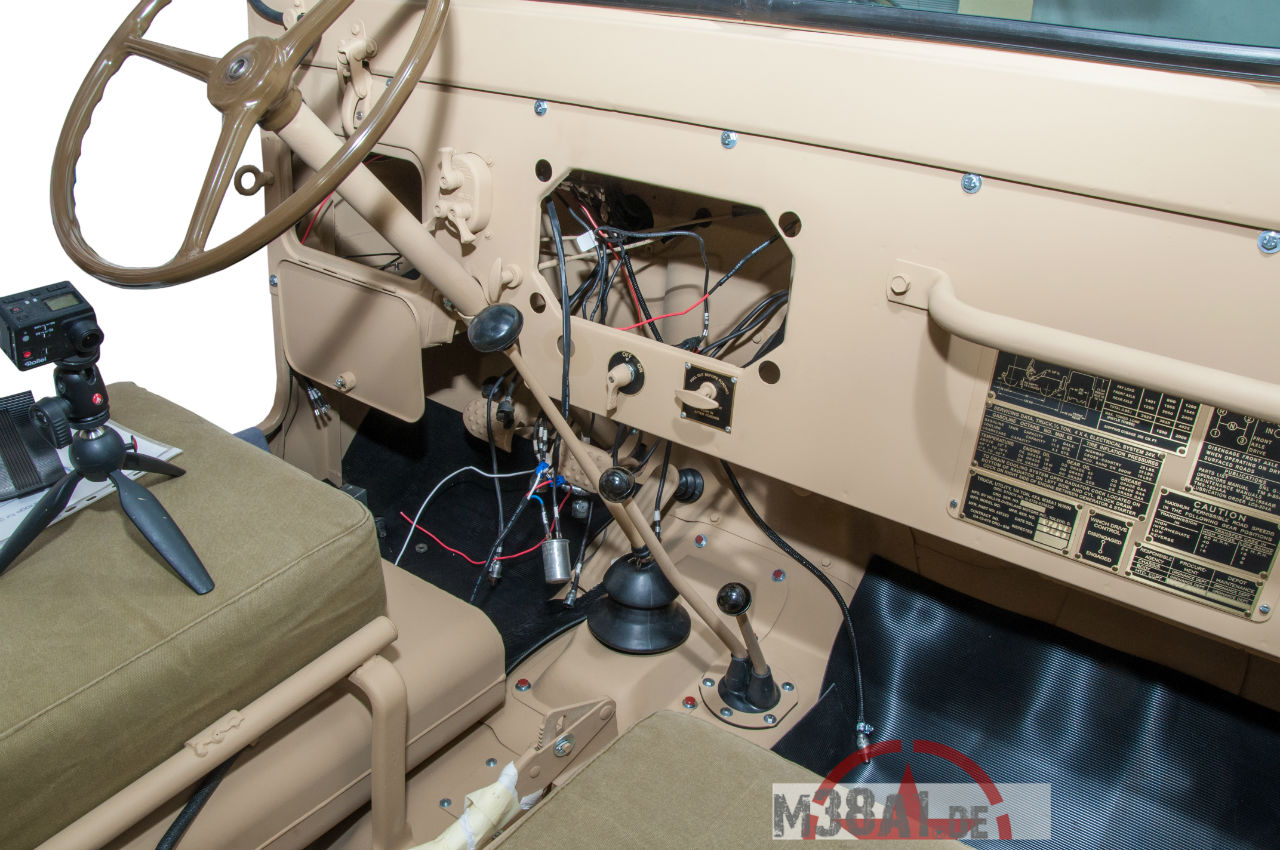 The original wiring harness was totally unusable. Buying a new one was way too expensive. You have to calculate round about 1000 € for a new one. So I decided to do the wiring by myself and build a new wiring harness by using the wiring diagram. I was lucky to found some new Douglas Connectors.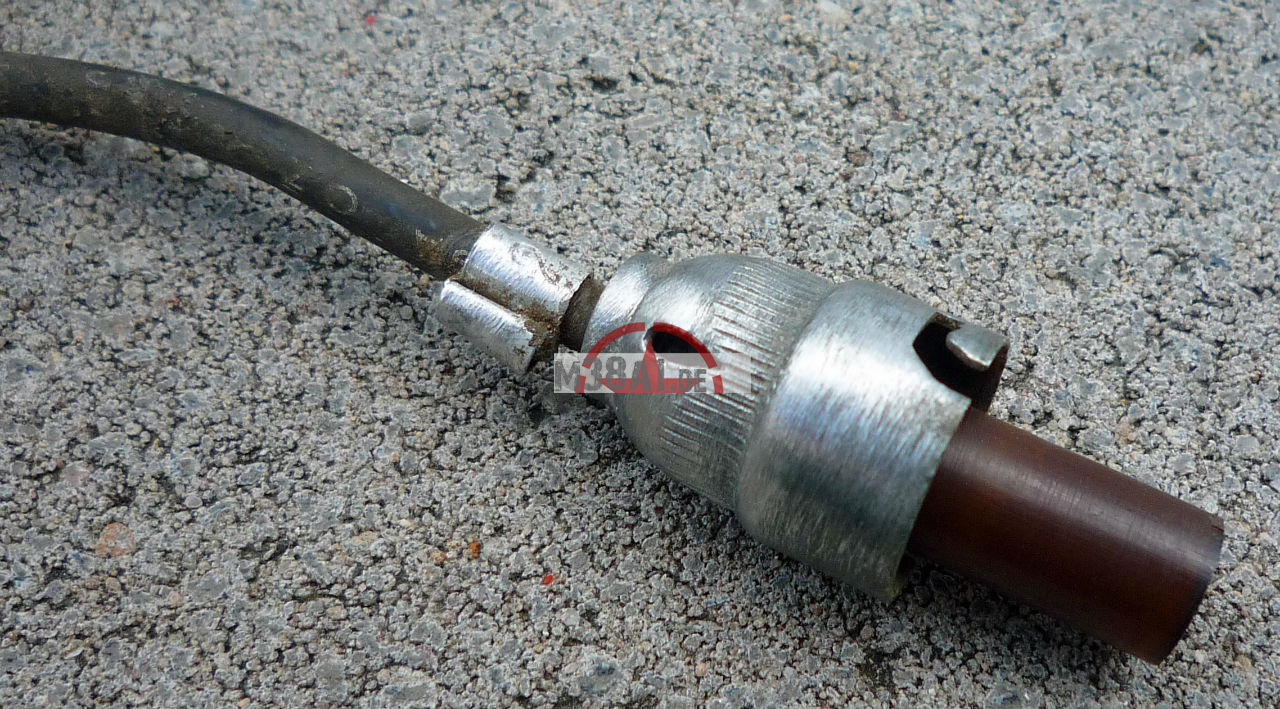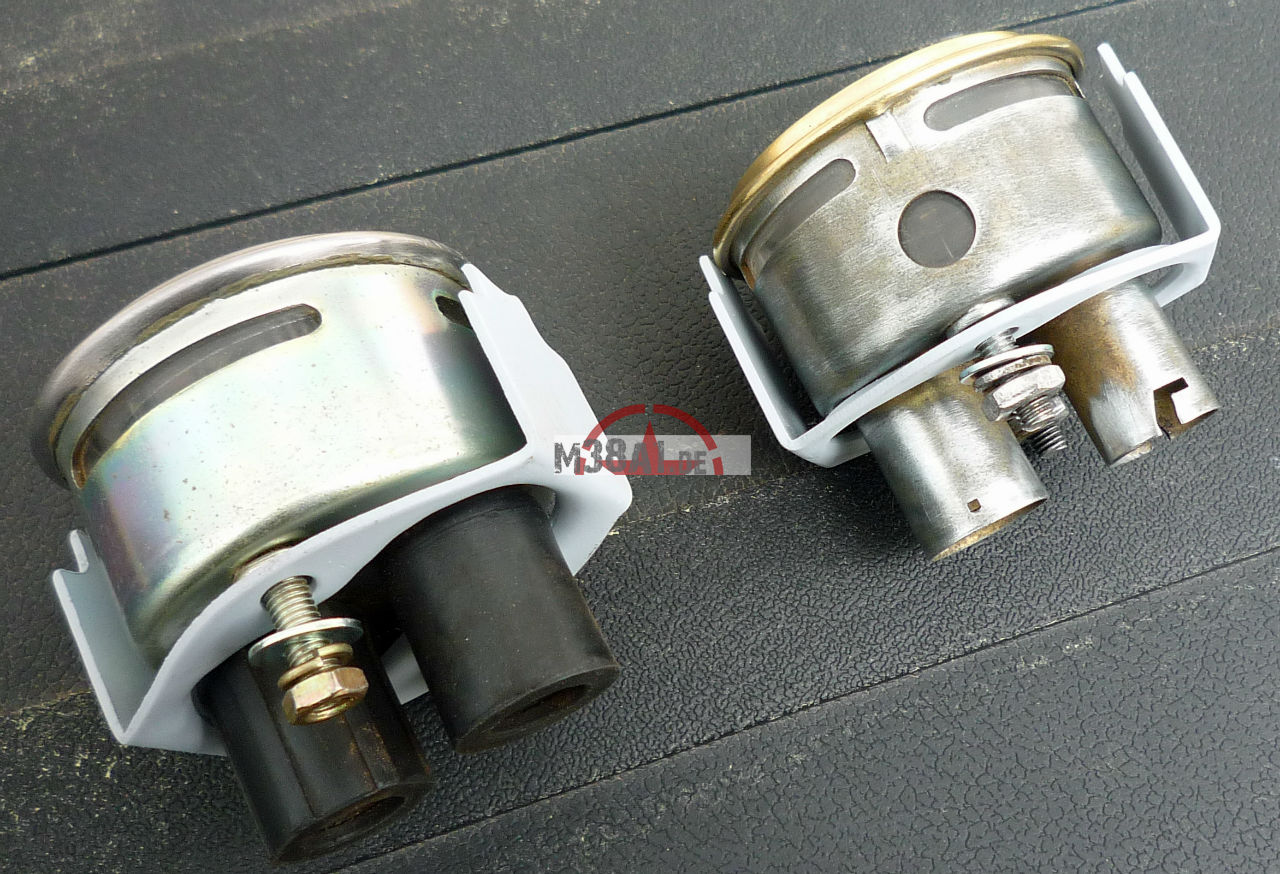 ---
instrument panel before restoration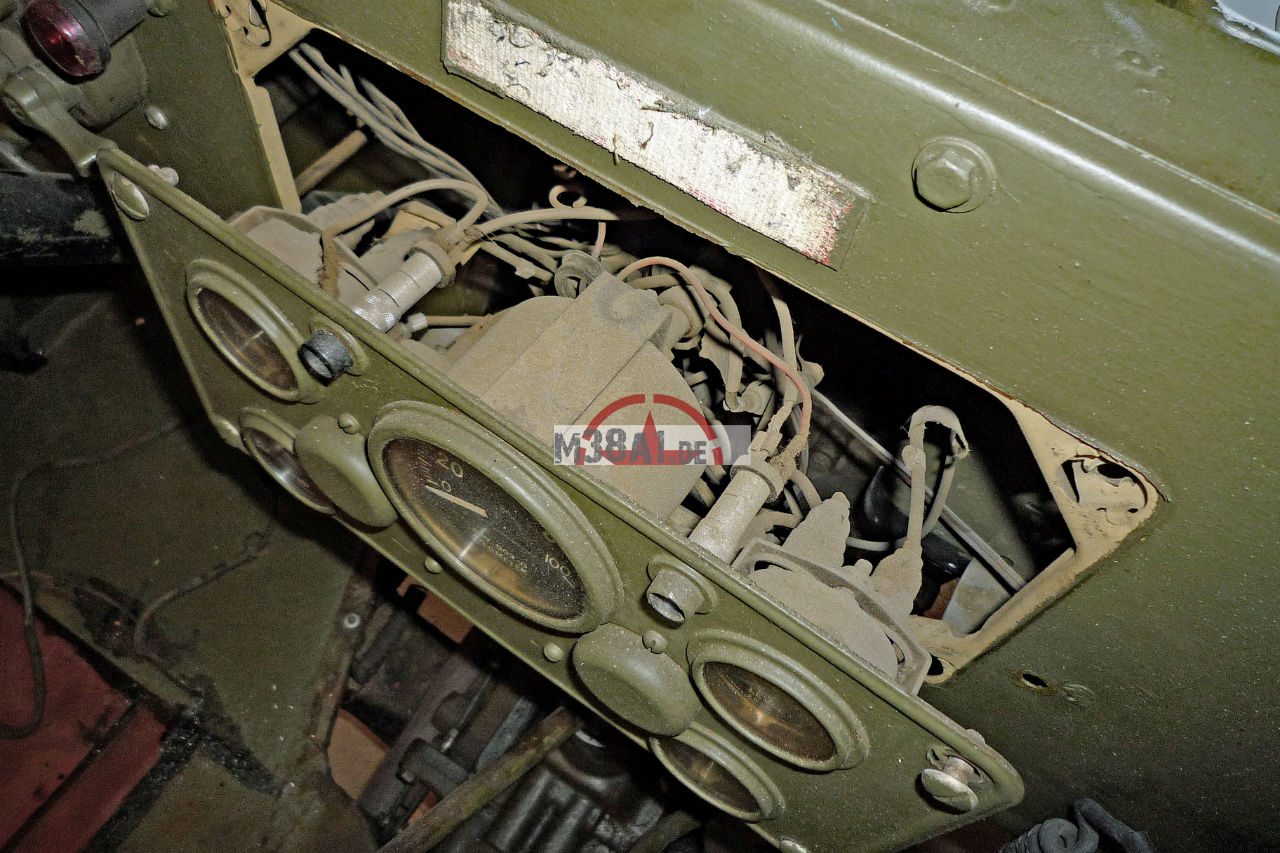 ---
gauges
I bought new ones except the ammeter gage. Oil pressure under normal operating conditions is 30 to 35 psi and approximately 10 psi when engine is idling.
Die Restaurierung der Anzeigen ist zeitaufwändig, da die Farbe entfernt werden muss, ohne das Glas zu zerkratzen. Am Ende entschieden dich mich, neue Anzeigen zu kaufen, außer der "Battery-Anzeige", die bereits von der Farbe befreit war. Die Öldruckanzeige war zudem außer Funktion. Dabei ist zu beachten, dass im TM9-8014 (s.o.) die unten abgebildete Öldruckanzeige mit "60 psi" auf der 12 Uhr Position ausgewiesen wird, gekauft habe ich aber unwissentlich eine Anzeige mit "30 psi" auf der 12 Uhr Position, welche im TM9-8014 für den M170 Ambulance ausgewiesen wird. Der Grund für diesen Unterschied ist mir noch nicht bekannt. Wichtig ist sicher, dass der Zeiger bei Normalbetrieb auf 12 Uhr stehen sollte, egal welche Anzeige man nun verwendet. Im TM 9-8014 wird auf S. 31 nämlich darauf hingewiesen, dass der Öldruck zwischen 30 und 35 psi bei normalem Betrieb liegen muss, im Leerlauf bei 10 psi.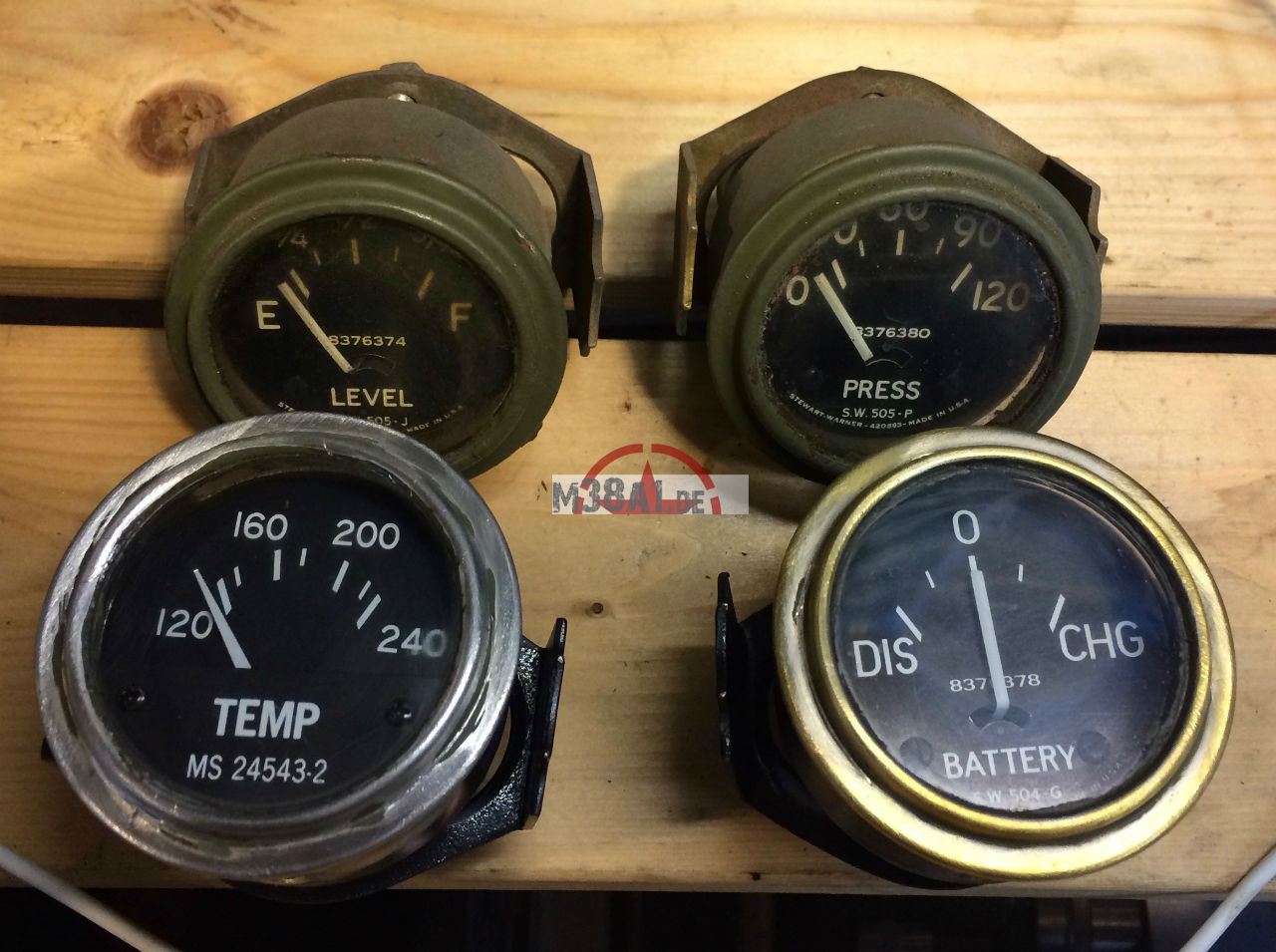 water temperature gage & ammeter
Normal operating temperature ist 160° to 180° F. See also TM9-8014 operation maintenance page 31/32.
---
speedometer
I bought a new one in mph.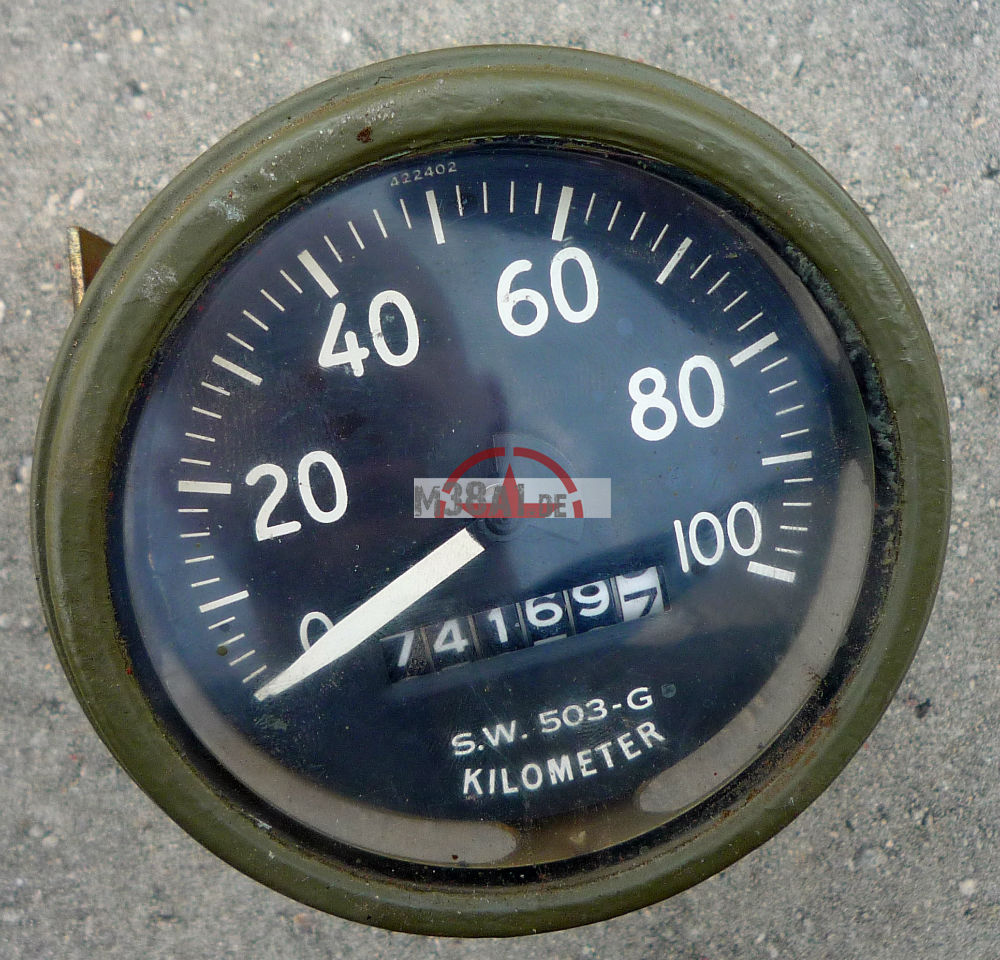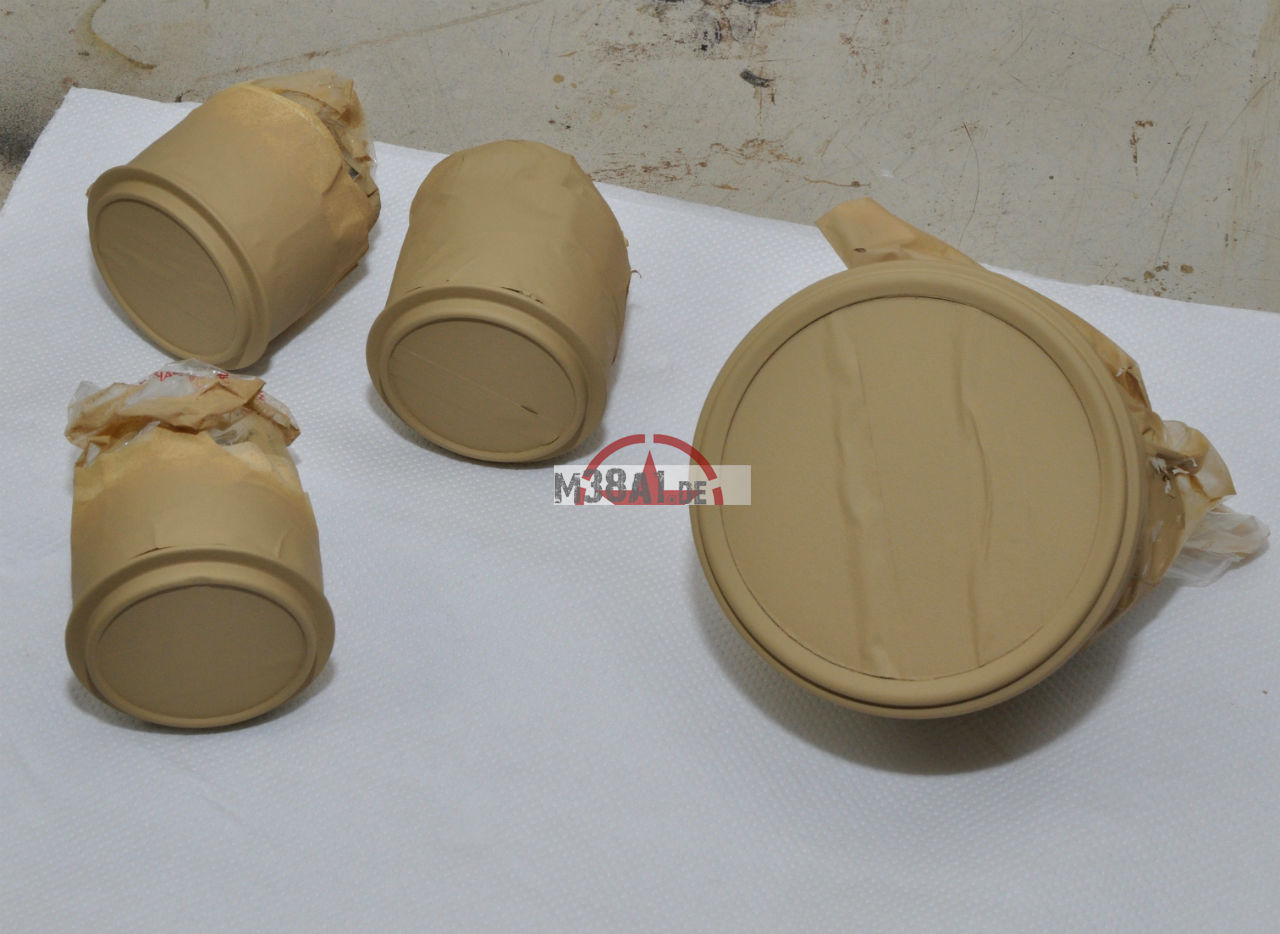 ---
---
PLEASE HELP US TO KEEP THIS WEBSITE UP TO DATE WITH A ONE TIME DONATION
You will find more informations under donation
---
---
speedometer cable assembly | Tachowelle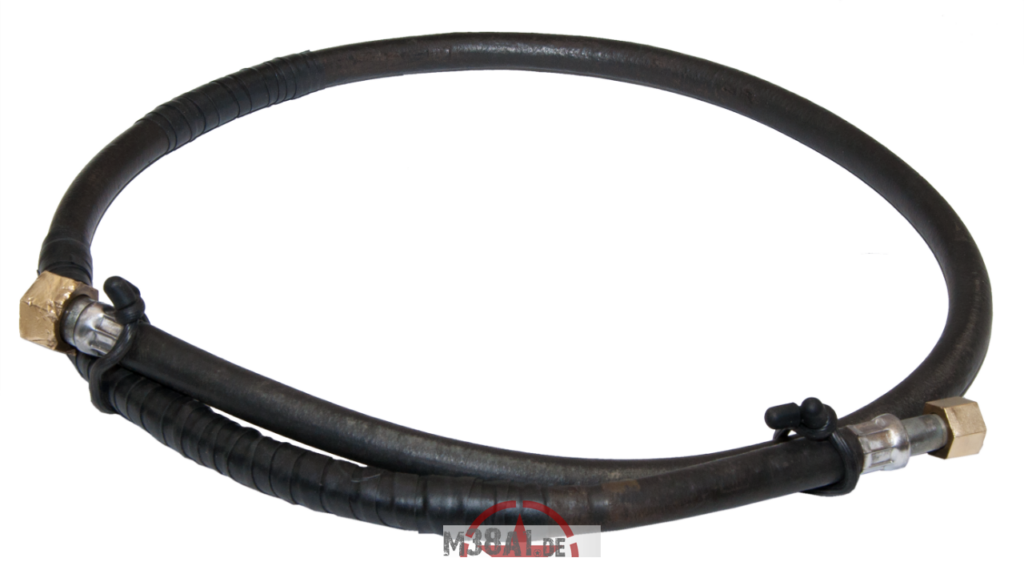 Die Tachowelle zeigte an einigen Stellen defekte in der Ummantelung, welche ich mit selbstverschweißendem Klebeband reparieren konnte. Dabei ist darauf zu achten, dass der Teil zunächst nicht repariert wird, der später noch durch die Spritzschutzwand hin zum Armaturenbrett gefädelt werden muss. Die Tachowelle passt sonst nicht durch die entsprechenden Lochbohrungen. Auch sollte die Gummidichtung der Lochbohrung nicht vergessen werden, da die Ummantelung der Tachowelle sonst am scharfkantigen Blech Schaden nehmen kann.
---
headlight control switch | Lichtschalter
In dieser Galerie ist sowohl der originale, also bereits installierte headlight control switch, als auch ein gebraucht gekaufter zu sehen (oliv). Da der originale Switch eine gebrochene Feder im rechten unteren Entsperrmechanismus (Unlock) aufweist, soll dieser später noch ersetzt werden. Den Switch konnte ich durch Zufall bei der Fa. Bausenwein Military Store am 09.04.17 für 35 € gebr. käuflich erwerben. Es fehlen nur die Schrauben für die Wahlhebel.
Main switch lever can be positioned to energize the circuit to all the vehicle lights including the instrument panel and parking lights. Auxiliary switch lever controls the instrument panel and the parking lights. Mechanical switch lever locks the main switch lever to prevent accidentally turning on the STOPLIGHT, SER DRIVE, and from BO MARKER to BO DRIVE. (TM9-8014, Page 28)
---
warning signal control | Warnblinkergeber 24 Volt BOSCH
Den Warnblinklichtschalter konnte ich nach Rücksprache mit dem TÜV etwas versteckt unter das Handschuhfach installieren. Hier ist er leicht zu erreichen, zerstört aber nicht die Optik des historischen Fahrzeuges. Ich habe den Schalter mithilfe eines Schaltplanes aus dem Internet anschließen können.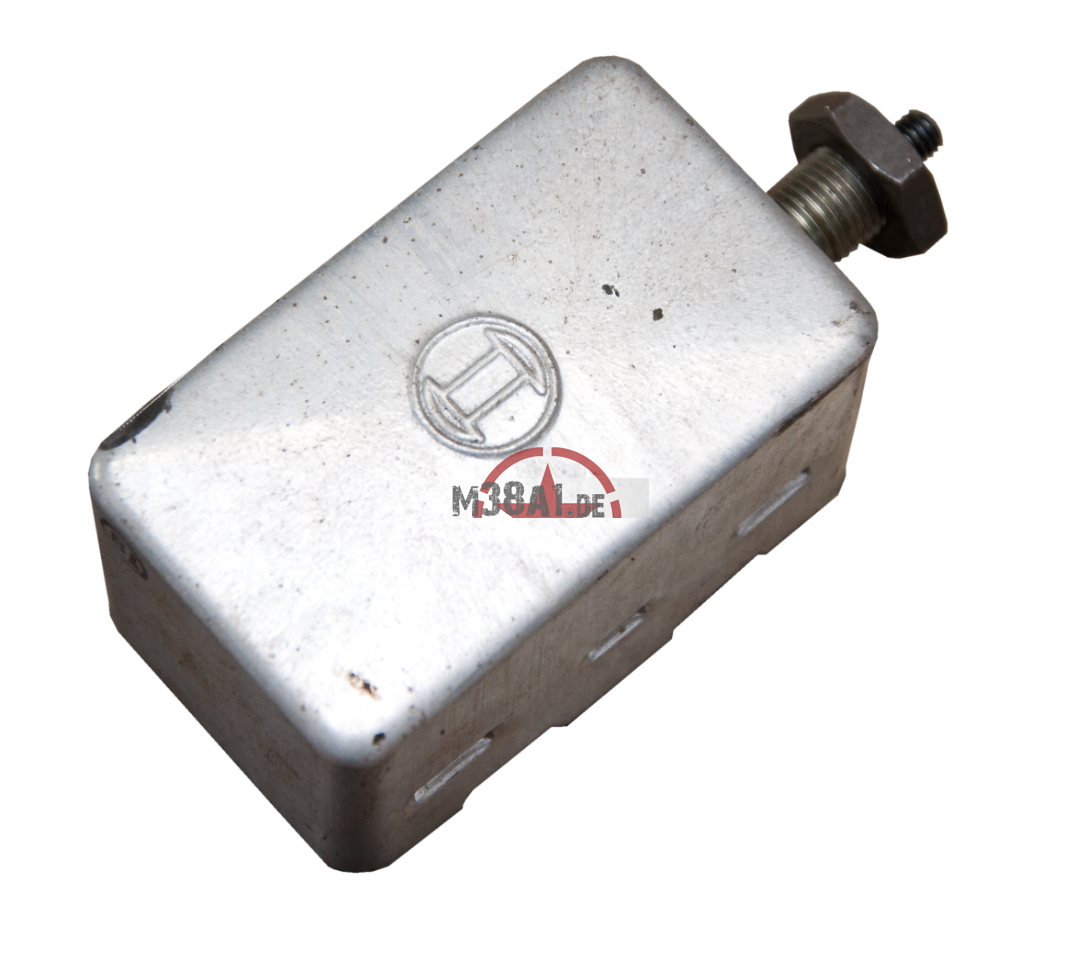 ---
STATUS: February 05th, 2022| NOTICE: All pictures are taken and created by myself. Respect the Copyright!