CASEMATE D'INFANTERIE ESCH À HATTEN
Nordelsass bei Hatten | N48° 53.542′ E7°59.418
route de Seitz
Office Du Tourisme | N48° 57′ 59 E7° 54′ 44
3, Route de Hoffen
67250 Hunspach (France)
Die Kasematte befindet sich am Rande der Strasse, die von Seltz nach Hatten führt. Es handelt sich dabei um ein Infanteriewerk der Maginot Linie für ca. 20 Soldaten. Die Hälfte des inneren Raumes beherbergt Rüstungen aus den Jahren 1939/1940 und ist der Schlacht, die im befestigten Raum um Haguenau herum geliefert wurde, gewidmet. In der anderen Hälfte des Raumes wird die schreckliche Schlacht von Hatten erwähnt, in der sich 1945 Amerikanische und Deutsche eine heftige Panzerschlacht mit hohen Verlusten auf beiden Seiten lieferten. Dabei wurde das Städtchen Hatten nahezu vollständig zerstört. Auf der Festung sind Spuren dieser Schlacht deutlich sichtbar. Da die Kasematte zum Zeitpunkt unserer Ankunft geschlossen war, konnten wir nur von außerhalb ein paar Bilder machen, welche im Folgenden zu sehen sind.
---
Around the Casemate
---
Faltblatt zur Kasematte von Esch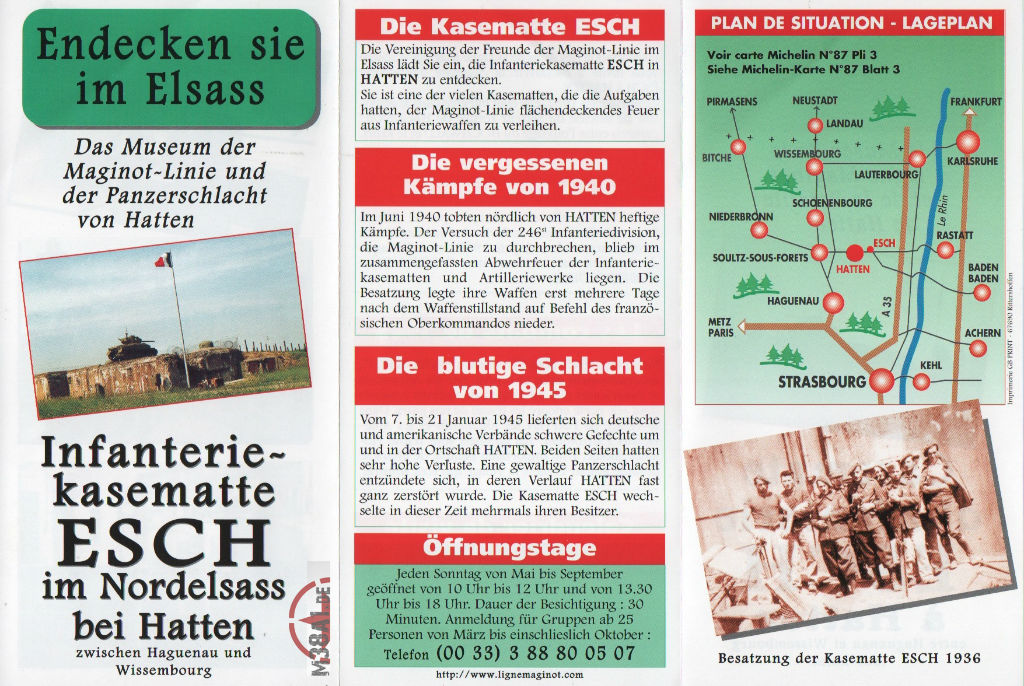 ---
STAND: 25.08.2018 | NOTICE: All pictures are taken and created by myself. Respect the Copyright!
---