MUSÈE DE L'ABRI À HATTEN
Rue de l'Abri
67690 Hatten (France)
Tel.: +33 388801490
E-Mail: musee.abri@orange.fr
Nachdem wir das Fort Schoenenbourg besucht hatten, statten wir dem Museum L'Abri einen Besuch ab und verbrachten etwa 3 Std. in der weitläufigen Anlage. Das Parkieren ist vor dem Museum möglich. Ein Mannschaftsbunker bildet das Herzstück des Museums, welcher 220 Soldaten Unterstand bot und nicht in die schweren Panzergefechte um Hatten einbezogen war, also nicht beschädigt wurde. Einige der Räume sind im Originalzustand hergerichtet worden, wohingegen andere Räume der ständigen Ausstellung dienen. Das Außengelände bietet interessante Fahrzeuge, wobei die Ausstellungshalle mit ihren vielfältigen Exponaten neben dem Bunker das Highlight des Museums ist. Ein Denkmal der Gefallenen in einem Erinnerungswald rundet das Erlebnis ab. Ein Besuch lohnt sich in jedem Fall.
---
The Exhibition Area
The Bunker
Hall 1944-1945
---
Faltblatt zum Museum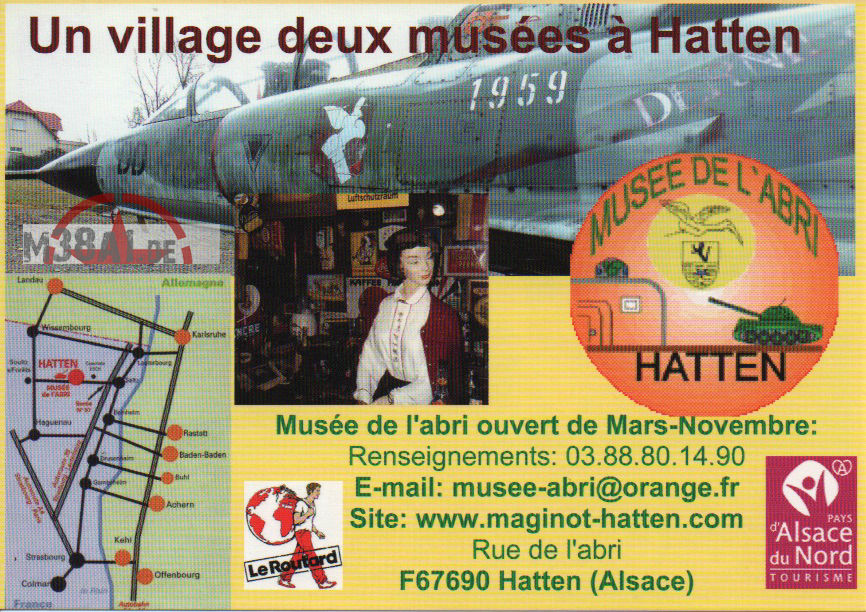 ---
STAND: 25.08.2018 | NOTICE: All pictures are taken and created by myself. Respect the Copyright!
---